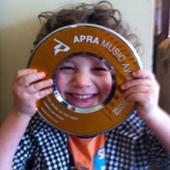 Shane wins the 2012 APRA Music Award for Country Work of the Year for "Famous Last Words" in Sydney on May 28! Once again, Arlo has the winner's grin…
Shane wins first place in the Americana section of the International Songwriting Competition with "The Broken Things". The field consisted of over 16,000 entrants from 112 countries, with judges including Tom Waits, Jeff Beck, Lucinda Williams, Tori Amos, and many more.
The Grand Prize was won by NZ's Kimbra. Many other Aussies took out prizes also. For a full list of the winners, click here.