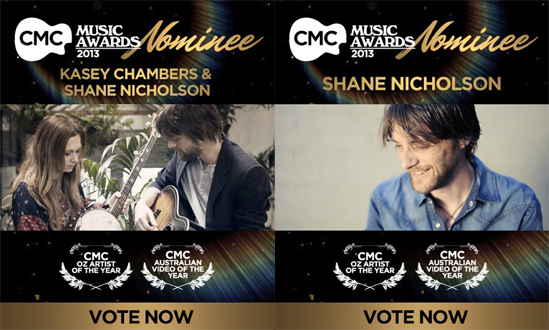 This year Shane is not competing against his wife, but himself, in the CMC Music Awards. Head to the Country Music Channel website to vote: www.countrymusicchannel.com.au
Wreck & Ruin is still holding strong at #2 on the Americana Airplay Charts in USA:americanradio.org
"The Quiet LIfe" enjoys time at #1 on the CMC Top 50! Keep the votes coming…
Kasey & Shane will turn Tamworth's Peel Street into a Live venue.
Wednesday 23 Jan. LIVE and FREE with the WRECK & RUIN BAND.
Details of the press release:
Kasey Chambers and Shane Nicholson – WRECK & RUIN TAMWORTH 2013
****LIVE & FREE CONCERT ****
Wednesday January 23rd 8pm Peel Street
Kasey and Shane would like to announce that for the Tamworth Country Music Festival 2013, they will perform a free concert in Tamworth. The concert will take place in the heart of Peel Street. This will be their only Tamworth performance and an exciting opportunity for their fans, who make the trek to Tamworth every year to celebrate with them.
"We want to thank all our fans for their ongoing support, not only for Wreck & Ruin, but for all our music over so many years. We can't think of a better way to say 'Thanks' than to perform a very special LIVE & FREE concert, with the Wreck & Ruin Band, right where so many of Australia's favourite country music stars got their first break – downtown Peel Street in Tamworth at the annual Country Music Festival. We'll be playing all the old favourites, as well as some of the new stuff. We can't wait to get there and see you all."- Kasey & Shane.